Fast, powerful and reliable!
The powerful battery-powered riveter for blind rivets up to 6.4 mm diameter of all materials. Power: Li-Ion battery 20V DC 2,0 Ah, Diameter: 4,0-6,4 mm,

stroke: 30 mm, Weight:1,9 kg with battery, working power:20000N

More information at www.nitownica.com
Home
Welcome to the website of NIROSTAL!
Dear Sir/Madam,
Our company was established in 2006, however the experience of our technical advisors dates back to the beginning of the 1990's. The basic product range groups offered by our company include: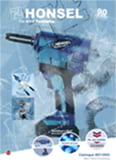 Rivets
NIROSTAL is the exclusive Polish representative of a German manufacturer offering professional pneumatic riveters , power riveting tools as well as hand tools, blind rivets, blind rivet nuts and blind rivet bolts, supplied by HONSEL Distribution GmbH & Co.
We offer a wide range of HONSEL products from our central warehouse in Chwaszczyno near Gdańsk and from our branch in Poznan. We offer shipping services of our products all around Europe. It is also possible to complete supplies (blind rivets, blind rivet nuts, riveting tools) to the customer's site directly from the main HONSEL warehouse in Germany.
Bolts
For many years we have been specialising in fast supplies of stainless steel and acid-resistant fasteners made of AISI 304 and AISI 316 steel. We offer standard fasteners, such as bolts, nuts, washers, metric screws, tapping screws, self drilling screws to steel and aluminium, threaded rods, as well as non-standard fasteners for special purposes, e.g. marine accesorries, construction fixings (stainless steel concrete anchors), connector for installation of solar panels, etc.
Welding studs and capacity discharge welding units.
Nirostal offers welding studs for capacity discharge welding method as per the DIN EN ISO 13918 standard (formerly DIN 32501), PT, IT, UT forms and isolation nails. We also offer reliable professional capacity discharge welding units for the above components.
Read more